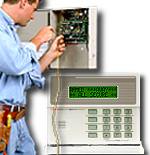 Service and Installation

Environmental Sensors
Environmental Sensors help monitor your home from damage to extremes in temperature or water leaks.

High / Low temp devices - guard against the temperature reaching an extreme cold or an extreme heat.
Water Level sensors - guard against floods and leaking pipes. When the water level reaches a predetermined level, the alarm will sound.
---
Home | Business Description | FAQs | Employment Opportunities
Arlington Security Co. LLC
11 W. College Drive, Unit E
Arlington Heights, Illinois 60004
(847) 392-7997 FAX (847) 392-8232