A FEW WORDS ABOUT
ARLINGTON SECURITY COMPANY
Arlington Security Company was founded in Arlington Heights, Illinois by its current President Mr. James M. Hassenplug in June 1983. His initial goal was quite simple, "To form a company that would HONESTLY and SINCERELY consult with its clients about proper theory and installation of residential and light commercial electronic security systems, while at the same time offering its employees a proud atmosphere in which to prosper".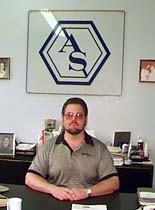 Two ideas were as evident then as they are now:

1. The company is only as good as the people that work with us (not for us).

2. We will not allow a dissatisfied customer.

Arlington Security Co. LLC which is a state licensed and insured security company takes great pride in serving Chicago and its suburban area with the finest in security products installed by OUR proud craftsman and backed by excellent service. We do NOT subcontract out our work because our goal is to achieve 100% customer satisfaction, this is how we built our company. Over 87% of our customers are referred to us by our most important commodity, "OUR VALUED CLIENTS". We think that speaks for itself!

All of the systems that we market and install are custom designed by our professional security consultants and design staff. Just a few of the types of systems that we work with are: Burglar and Fire alarms, CCTV systems, Access control systems, Intercom systems, Central vacuum systems, Telephone and stereo pre-wiring and many others. Our work is offered on new construction as well as existing buildings.

Over the past two decades, our company has grown and prospered very nicely. This is due to the fact that we want to acquire a new and larger facility within the next few years. It will hopefully be located in Arlington Heights. This will offer us greater space for future growth and prosperity as well as a better "Corporate Identity".

At Arlington Security Company, we are very excited about our future because we know that we are building on a solid base that represents our past efforts. We are always looking for self-motivated, goal driven people to work with us (not for us), because we know they are our future! Who knows, maybe you are one of them!!!